Staging is the act of preparing your home in a fashion that appeals to potential buyers' interests. Through interior design and strategic furniture placement, you create a welcoming environment that the buyer can visualize themselves living in.

With staging, it can be easy to get carried away and spend too much decorating each room to perfection; however, your efforts will be best spent focusing on the most pertinent rooms that buyers are interested in viewing. Spend your time wisely by showcasing the most important rooms where homeowners and their families will spend the majority of their time.


Patio & Outdoor Space
Before peering into the interior to assess necessary changes, you'll need to draw buyers' attention with a fabulous patio and garden. The entryway is technically the first space that potential buyers see as they walk up to your property, and it deserves to be treated accordingly. Various design elements and furnishings create an inviting space that will appeal to buyers and lure them into your home so they can further view its charm and elegance.
◾ Fencing: Make sure your fence or entry gate is updated. Whether it needs a fresh coat of paint or a complete low-maintenance steel, vinyl, or composite makeover, don't neglect this feature. After all, the gate is the first thing buyers see when they arrive at your property, helping them form a first impression. You'll want to make it a good one.

◾ Gardening: A beautiful walkway adorned with perennials and native shrubbery creates an inviting first glance into your home's potential. Planters and varied flora add color and life to your outdoor space. Tree rings can be a whimsical addition, as can raised flower beds. Use your flower bed for native flowers for a low-maintenance touch of beauty.

◾ Porch furniture: Add a porch swing, accent table, vase, and other minor elements to create a significant impact as buyers walk up. A lovely cream-colored daybed and coffee table add comfort and intrigue. A space where buyers can imagine themselves drinking their morning coffee or catching up on their day with their loved ones is what you're going for here.

◾Aquatic features: To significantly increase your home's appeal, you may consider adding an aquatic element to your terrace. A babbling water fountain, natural pond, or waterfall installment will add an air of enchantment and magic.
Bathroom
The bathroom should be decorated in a simplistic yet thoughtful way, as people want a tranquil space where they can unwind from their stresses and get ready to conquer the day head-on. You don't need to overthink this area, as just a few minor details and factors can get across the peaceful scene that buyers are seeking.
◾ Declutter: Remove all your toiletries, jewelry, makeup, etc. A clear countertop is the most welcoming to guests. With less of your personal belongings in view, the buyer can imagine their own personal care products on the counter.

◾ Clean: Disinfect, scrub, shine, take all the necessary precautions to ensure your bathroom is appealing to potential buyers. An affordable but effective way to create an impact is by sprucing up your grout or calk if it's looking a bit drab.

◾ Design: Don't leave your fuzzy toilet cover, old shower curtain, or bath mat out when doing a home viewing. These personal decorations may appear uncleanly and give buyers the wrong impression. Upgrading the hardware to create a cohesive look throughout the restroom also yields a great image. Adding some functional lighting is essential, while some elegant touches like oil-reed diffusers add a lovely fragrance and charm. Plants and accent tables with candles and a book are also appealing to prospective buyers and add an extra flair to the space.
Dining Room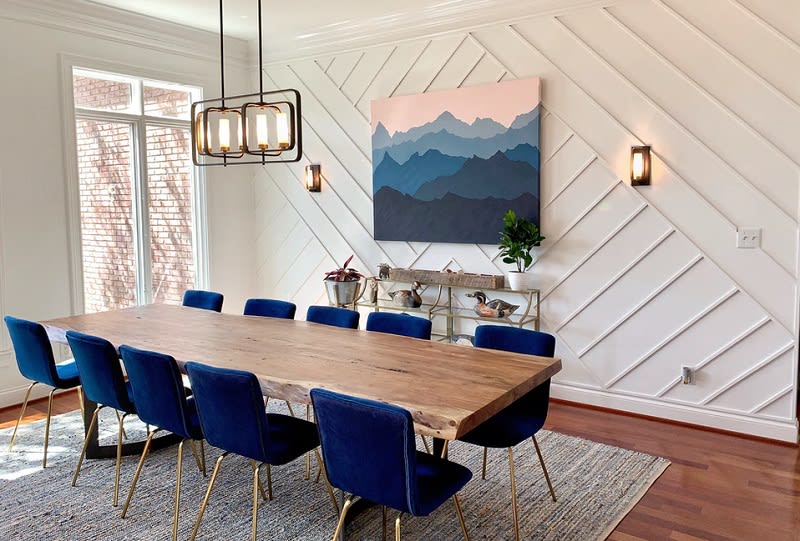 What better way to sell a home than by creating a warm and inviting dining room where a buyer can imagine enjoying a home-cooked meal with their family? You want to create a sophisticated ambiance leveled out with aspects of comfort when staging a dining room. Try to think about an inviting atmosphere, but don't overcrowd the space when achieving the ideal space for staging.
◾ Lighting: If the dining area has at least one wall with windows, add a mirror to the opposing wall to reflect natural light throughout the room. Have old, dusty light fixtures? Ditch them, and replace them with a pendant light or a combination of chic table lamps and wall lights.

◾ Accentuate space: When staging a home, it is critical to showcase the spaciousness of a room. A well-flowing area with space for buyers to walk around and not feel backed into a corner is vital.

◾ Designing: Add an accent piece to the dining table or a console table with a couple of plants to add allure and comfort to the room. A large vase with fresh flowers in the center of the table and some colorful artwork help create a focal point.

◾ Keep it simple: Do not set up an entire dining table with dishes, glasses, silverware, and the like. There is no need to overdo it. A simple and elegant focal point is all the room truly needs, as over-staging can have buyers thinking twice about moving in.
Kitchen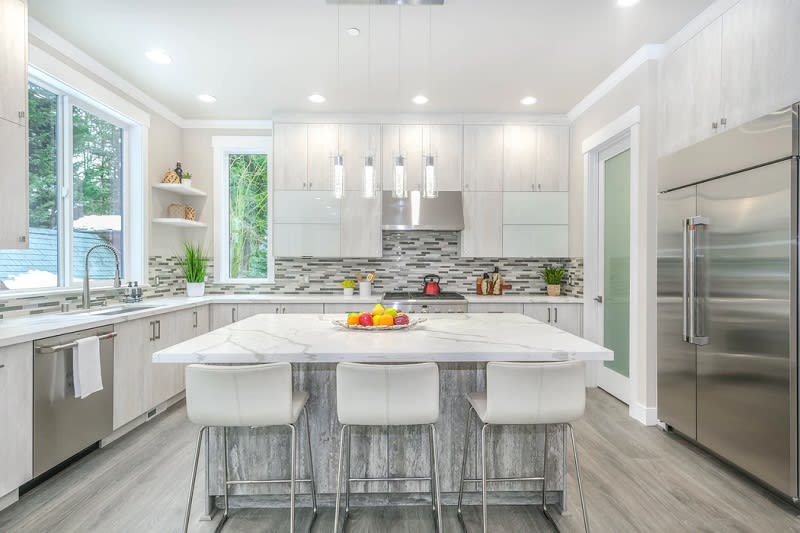 Many people consider the kitchen to be the heart of the home. This space is where we have family discussions, chat with friends, and where lovingly prepared meals are created to nourish our families. Some minor yet effective changes will lead to the optimal outcome when selling your home.
◾ Clean: You want your kitchen to be mess-free but still appear lived-in. Make sure garbage is taken out and pet food bowls aren't left out. You may even want to run a lemon down your garbage disposal to ensure freshness. Getting a professional cleaning company to spruce up the kitchen is an excellent investment when staging your home, ensuring the room looks fresh and smells clean.

◾ Organize: Declutter those counters and stow away extra gadgets and trinkets in cabinets, but make sure to maintain order as buyers will peer into those enclosures. The only absolute necessities to leave on your counters are a toaster and coffee machine, with everything else remaining out of sight. If you have a pantry, you'll want the shelving to retain open space. Staging your kitchen is for looks, not for function.

◾ Paint: Instead of investing in a costly venture to replace all your cabinetry, paint them instead. This will uphold a clean and upgraded look without breaking the bank. Consider painting the kitchen walls a color that meshes well with the cabinetry and countertops. If you don't require an entire paint job, a simple wall cleaning and touch-ups can make a big difference.

◾ Decorate: Display a nice hand and dish soap next to the sink, and be sure to get rid of old sponges and unsightly dish soap bottles. A lovely tea kettle on the stove and some new tea towels are beautiful accents that don't cost much but will yield an appealing look. A bowl of fresh fruit and freshly cut flowers or potted herbs will bring life into the kitchen and achieve a well-rounded air of comfort and livability. Seal the deal by adorning the kitchen counter or table with a few of your best cookbooks.
Master Bedroom
A bedroom should feel cozy and relaxing, an ideal place for potential buyers to picture themselves winding down after a long day of work and play. It doesn't take much to create an appropriate bedroom that buyers can envision themselves reclining and dreaming.
◾ Declutter: A restful retreat means a clean space for a clear mind. Organize the clothing by hanging and folding them neatly in dressers and closets. Remove unnecessary furniture so that only the bed, side tables, and dressers remain. As with any room you stage, you want the floors and walls to be clean, and in this case, the bedding fresh and inviting.

◾ Design: A lavish comforter with comfy throw pillows and a throw blanket at the foot of the bed are great accents. Table lamps on nightstands should be turned on, and a book would be a welcome addition. If you have the space for it, adding a separate armchair and accent table would be appropriate and inviting. A few decorative artworks on the walls add color and intrigue. When it comes to the bedroom, keeping it clean and straightforward is the best plan.
Living Room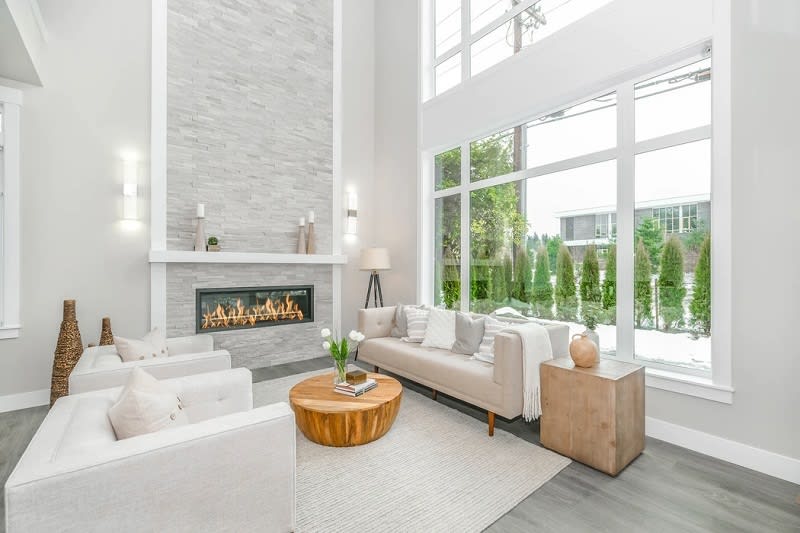 The living room is a vital scene in the home, a room fit for socializing and family time. This room is where much of the family's time is spent and needs to be staged to showcase the vast opportunities for entertainment and relaxation a potential buyer can experience. There is no need to overthink this room, and critical elements will create the right atmosphere.
◾ Depersonalize and declutter: As usual, clean the area so that floors aren't dirty or covered in Legos or toys and walls aren't scuffed. Store family photos, any toys, and random furniture that doesn't add comfort or showcase spaciousness. You'll only want to display a few chic accents that bring warmth to the home — nothing too personal or aesthetically overbearing.

◾ Design: Leave multiple light sources on to create a bright and light appearance. If your couch is stained and on its last leg, it is advisable to rent some updated, modern furniture for staging. Only some essential furnishings and small accents are needed to entice potential buyers. They want to be able to envision their TV over here or their stereo over there, so leave plenty of space but not so much that the room feels cold and unwelcoming.
Staging your home can be overwhelming, but it doesn't have to be. Following these guidelines will add value to your property while getting it off the market in a flash. If you require assistance in home staging and selling your luxury Rhode Island or Massachusetts property, contact Esquire Property. Whether you are putting up your North Kingston house for sale or Newport mansion, Sean Carlino and his professional team will lead you through a smooth and successful real estate transaction.