Those considering moving to Rhode Island have plenty to look forward to. This New England state might be small (just 48 miles long and 36 miles wide), but don't let that fool you. The coastline is lined with idyllic inlets and coves, resulting in a picturesque setting that looks as though it was taken from a postcard.

Rhode Island is also home to a variety of lovely communities, rich in history and charm. With so much to offer, it's no surprise that Rhode Island — nickname Little Rhody — is the second-most densely populated state in the nation, second only to New Jersey. In fact, recent figures suggest that approximately 2000 people are moving into the state every year.

If you're debating moving to Rhode Island, the first order of business is deciding what community is right for you. We've pulled together some of Rhode Island's most sought-after communities, so read on to discover which one is right for you.


South Kingstown
Located in Washington County, South Kingstown has a population of just over 30,000 residents over a span of 79.8 square miles. It is the most populated town in the county and the largest town in terms of area in the entire state. The history of this area stretches back to the late 1600s when it was first settled. In 1674, a town called Kings Towne was founded. Eventually, in 1722 Kings Towne split up into two separate towns, South Kingstown and North Kingstown, which is what we have today.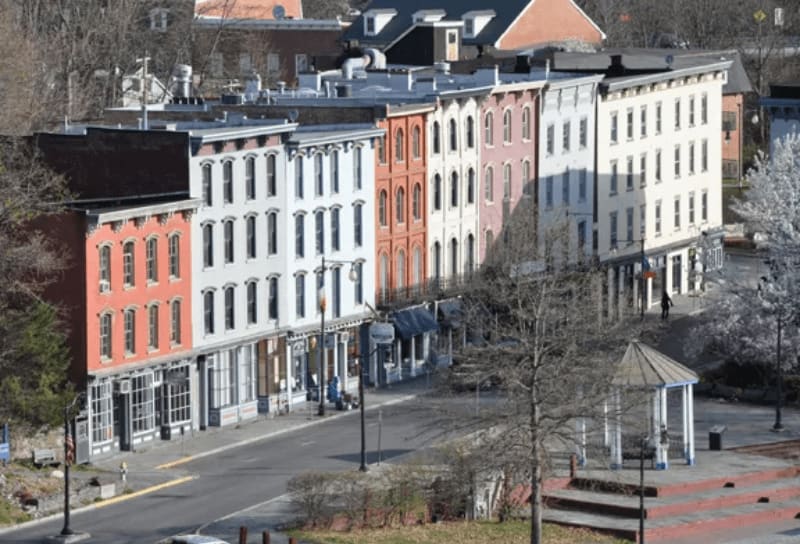 Credit: Friends of Historic Kingston

Kingstown is perhaps most notable for being the home of the University of Rhode Island. The majority of the village's center, the Kingston Village Historic District, is on the National Register of Historic Places. Needless to say, this town abounds with historic charm.

In South Kingstown, Wakefield serves as the main commercial center and provides residents with a plentiful array of dining options or shopping venues. If you want to get out of town and enjoy some peace and quiet, spend the day at one of the many beaches in the area. Beaches in the community include Moonstone, South Kingstown State Beach, and East Matunuck State Beach. These beaches provide residents and visitors alike with the perfect place to sun, sunbathe, relax, or picnic. The village is also home to the famous Theatre-by-the-Sea.
|
Although individuals from all walks of life and backgrounds reside in South Kingstown, the majority of residents are families with young children. There are nine public schools throughout the South Kingstown School District, as well as three private schools. Between the idyllic ambiance, low crime, and excellent schools, it's not hard to understand why residents love living here.
Warwick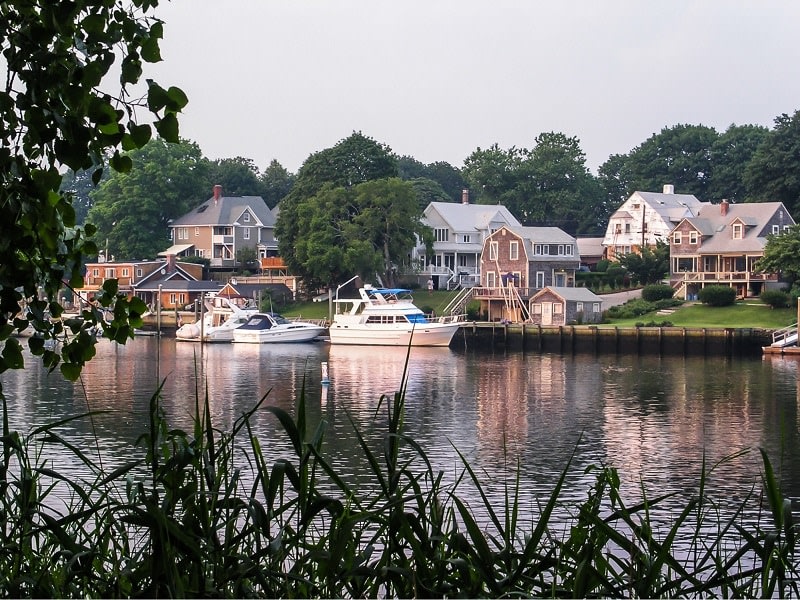 Credit: Wikipedia

Warwick was originally founded in 1642 and is currently the second-largest city in the state of Rhode Island, second only to South Kingstown. This city has a plethora of appealing aspects worth noting, including its proximity to salt-water beaches, an abundance of colonial history, and multiple parks and green spaces. Warwick is also proud to boast a diverse array of retail and specialty shops, world-class dining, and top-notch recreational facilities. The city is home to Green International Airport and is perfectly suited to meet all of its residents' travel needs. Warwick also offers the InterLink intermodal commuter rail station and convenient access to Routes 45 and 295.

There is never a dull moment in Warwick, whose slogan is the City by the Bay. The city proudly boasts a calendar filled with events, including everything from parades, art classes, and nights out on the town. Warwick is committed to honoring art and culture and is filled with a robust assortment of theatres, galleries, and museums. Take in a theatrical production at the new Gamm Theatre or stroll through the art at Center for the Arts, a gallery located in the heart of Apponaug.
Coventry
Located just west of Warwick is the historical town of Coventry. The town was settled by English colonists in the 18th century, back when this area was still considered part of Warwick. However, Coventry was so far from the center of Warwick that farmers petitioned to make the area its own town. The farmers succeeded with their petition, and the town was named after the English city of Coventry.

Coventry remained a rural place until the 20th century, which brought further growth and urbanization. Today, the town is home to just over 35,000 residents. It is known for being one of the best places in the state to raise a family, thanks to the top-notch schools, low crime rates, and access to nature. Coventry features a wide array of outstanding neighborhoods to choose from, allowing you to find one that fits your specific needs.

This coastal community offers plenty to do, starting with the General Nathanael Green Homestead. This historical museum allows visitors to step back in the past and learn about the stories of General Greene, perhaps one of the most notable figures to come out of Coventry. Spend an afternoon relaxing at Leyden Farm Vineyard & Winery or perhaps hiking, exploring, or birding at Audubon George Parker Woodland Wildlife Refuge. No matter what your interests are, Coventry has something for everyone.
Exeter
Exeter is situated at the head of Narragansett Bay, on the eastern edge of the state. Like many of the surrounding towns in New England, Exeter was established during the 1700s. The town prospered during the 1800s, and farms and villages formed around the stream, bringing textile manufactures, sawmills, grist mills, stores, taverns, a library, a church, and a bank.

Today, the town has a population of just under 7,000, offering residents and visitors alike a slice of small-town charm. Individuals from all walks of life and backgrounds have made their home here, from outdoor enthusiasts to retirees to working professionals to families. It's the kind of place where neighbors know each other, and there is a strong sense of community. Between the housing, public schools, and convenience for families, it's not hard to understand why Exeter received a Niche grade of A.

This cozy coastal community might be small, but life here is far from boring. On the contrary, residents of Exeter enjoy plenty to do. Celebrate spring at Wicked Tulips Flower Farm, which began in 2009. Home to more than 800,000 tulips, this is the largest u-pick tulip field in New England. You can tiptoe through acres of tulips and experience the sights, sounds, and smells of spring.

For a fun-filled evening out, head over to Tilted Farm Brewery. Located in an authentic New England-style post and beam barn, this rustic brewery is proud to be the state's first farm brewery. Their small-batch, handcrafted ales are best enjoyed fresh, so it's a good idea to make the trek early for a true farm-to-pint experience. Meanwhile, history buffs might enjoy learning more about the Native American history of the region at Tomaquag Museum, which is one of the oldest tribal museums in the country.
North Kingstown
Located on the western shore of Narragansett Bay, North Kingstown boasts a population of 27,000 residents within its 43.6 square miles of land. Additionally, the 14.7 square miles of water makes it a wonderful waterfront town to live with one's family, vacation, or retire. Located centrally in the state, North Kingstown gives commuters easy access to Route 4 (which travels to ocean beaches) and to Route 95, which takes you to Providence in just 10 minutes. Needless to say, living in North Kingstown comes with a plethora of advantages.

North Kingstown was first established in 1674 and boasts a long and rich history. It is home to the waterfront historic Wickford Village, which is the centerpiece of the town and has ample New England charm. Wickford Village is easily recognizable thanks to its bright colors and well-preserved antique homes that line the side streets. Residents and visitors alike enjoy strolling up the streets and exploring the shops, restaurants, and galleries.

Today, North Kingstown is home to a diverse range of individuals, but families make up the majority of residents. In fact, 36 percent of households have children under the age of 18. Families with children are drawn to the excellent schools, which have been highly rated and help sustain property values in the town. In 2019, North Kingstown High School was rated one of the Top High Schools in the Country by U.S. News and World Report. The parks, friendly residents, and easy access to nature are just a few reasons that make North Kingstown a lovely place to call home.

If you're interested in exploring Rhode Island real estate, contact Esquire Property today. Whether you're looking for a short-term rental or a forever home, this talented team can walk you through the process from start to finish and help you find a place that's right for you. They have a deep knowledge of everything from North Kingstown real estate to Warwick luxury homes, and they're ready to help you find your dream home.